01-12-2022
PCG'S SUBSIDIARY BRB INTERNATIONAL OPENS NEW FACILITY IN ECHT, NETHERLANDS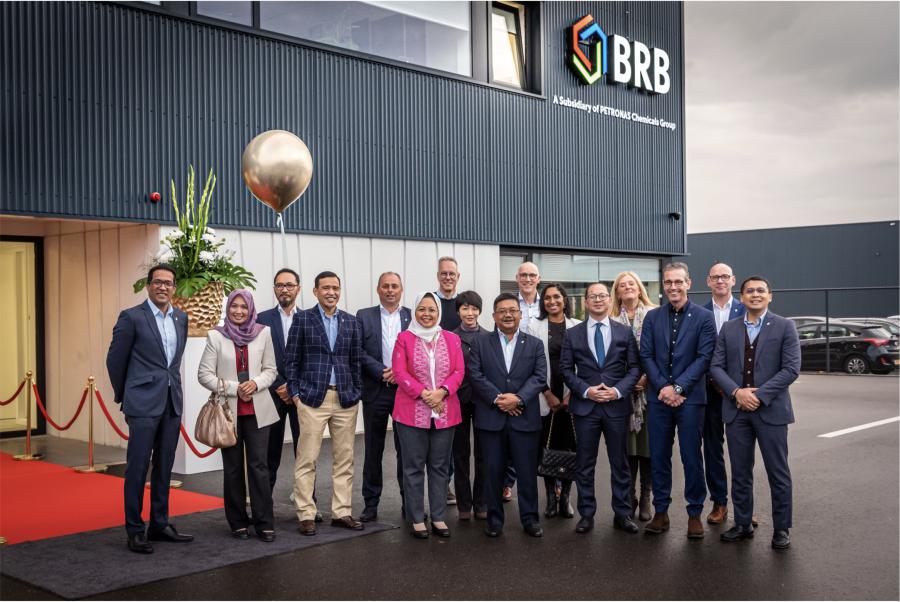 BRB opens a new facility in Echt, Netherlands, dedicated to lube oil additives and chemicals.

The newly designed facility practices sustainable production, reducing its carbon footprint.
BRB International (BRB), a wholly-owned subsidiary of PETRONAS Chemicals Group Berhad (PCG), recently opened its new lube oil additives manufacturing facility at Echt, Netherlands.
Equipped with higher safety and quality standards, this newly opened facility in Echt will focus primarily on the production of lube oil additives and chemicals (LAC), serving as a LAC hub for global market.

The facility was officiated by the Malaysian Ambassador to the Netherlands, HE Dato' Nadzirah Osman. Also present were Executive Vice President & Chief Executive Officer PETRONAS Downstream, Datuk Sazali Hamzah and PCG Managing Director/Chief Executive Officer, Ir. Mohd Yusri Mohamed Yusof.

In her speech, HE Dato' Nadzirah commended PCG for expanding its operations in the Netherlands. She said, "The opening of this facility is very much in line with the Malaysian government's endeavors for Malaysian companies to grow their presence in the European market through the strategic location of Netherlands."

Ir. Mohd Yusri said, "BRB's expansion is in line with PCG's strategy of diversifying into derivatives, speciality chemicals and solutions to meet the growing and changing customer demands in the region. As part of our growth plan for BRB, the opening of this facility marks a significant milestone towards strengthening BRB's position as an innovative solutions provider."

BRB's Chief Executive Officer Ralph Pinckaers added, "The LAC unit has been continuously developing solutions for its customers in the automotive, industrial and original equipment manufacturers field for over 40 years. With this new facility, the LAC business will have more room for growth and potential development of new offerings. We are positive that this step will enhance BRB's competitive edge in end markets."

The Echt facility incorporates sustainable practices in BRB's production of its drive line oil additives, Petrolad®, which uses lower energy consumption and reduces its overall carbon footprint in the making of its products. This practice will contribute towards PCG's sustainability vision to achieve Net Zero Carbon Emissions by 2050.